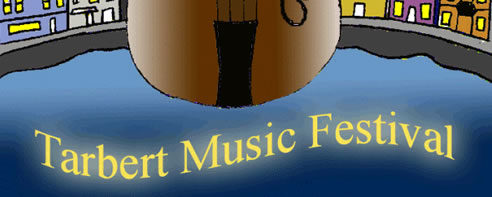 Tarbert Music Festival | 2013
The music festival is held here in September each proving very popular.
The event features contemporary and traditional Scottish Music set in the pubs and hotels around the harbour, with several bands playing in each venue in a pre planned rotation so you get to sample most of the bands that play that evening.
The event runs for a weekend and provides a marquee on the quayside for the Saturday evening and Sunday afternoon entertainment.
Some of the regular bands at the music festival include Follow That Camel and the Keelies.
If anyone has any images of this year's Tarbert Music Festival please email any images to info@tarbertlochfyne.com so that they can be included on this site.
This years line up includes: The Keelies, The Democrats, Archie McAllister and Iain MacFadyen, The Switch, 2 Bob Rocket, Keep'er Lit, The New Jolly Beggars, Gip, Archie McAllister and Iain MacFadyen, Caragh and Lauren,The Lush Puppies, plus The Osiligi Warriors and more..
For more information please visit the music festival website.
Next Event: September 2013
Contact Tarbert Music Festival
Name: Catherine
Address: Islay Frigate Hotel, Tarbert, Argyll.
Telephone: 01880 820300